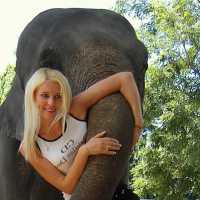 Sahara Sanders
Paranormal Romance, Teen & Young Adult, Poetry, Advice & How To, Biographies & Memoirs, History, General Nonfiction, Cooking
Profession

Writer, Poet, Interpreter, Entrepreneur, Photographer, World Traveler
BLOG: www.sssanders.net
SITE: www.sssanders.com

Sahara Sanders is a modern writer of several genres.

You will find insightful psychological analyses, informational advice, novels, poems--reading material for adults, young adults, teens and kids--among her numerous books.

She wrote her first short poems at the age of six, then didn't write again until she developed a fondness for creating stories at the age of ten. Two or three years later, the young writer's narrations were noticed by her schoolteacher, and, with his inspiring encouragement, she continued to compose stories over her remaining school years.

During her first romantic relationship with a boy from another grade level, she started keeping a diary about her thoughts and experiences. That diary formed the basis of her novel "A Dream of Two Moons," the title of which comes from some paranormal occurrences from real life.

Ms. Sanders completed high school and was awarded a gold medal, having achieved the highest grades in all subjects during her eleven years of study.

Then adult life began, and there seemed to be no room for scribing, until she fell in love again in 1993. That relationship resulted with a couple of hundred new poems that made up most of a poetry book called "Obsession," published many years later.

In 1997, Sahara had some spare time and turned back to writing narratives, when she was expecting a child, completing some chapters of an adventurous autobiographic novel for children and teens called "Gods' Food." It's a collection of memories about funny stories from her childhood.

During the next fifteen years, she occasionally returned to writing, completing some chapters of a novel entitled "Alexandrite," or "Man Logic." This work is planned to be published soon, along with another book, "The Eye of Universe."

Since 2013, she is once again in the world of books. Having accumulated an immense amount of useful information about different spheres of being, the author considers it part of one's life's mission to share experiences with others.

In 2014, her series "Win the Heart of a Woman of Your Dreams" was published, along with a cookbook, "Best Recipes from Eastern Europe."

New for this year, is the "Slim and Healthy You" guide.
Furthermore, there are two new non-fiction novels being translated and coming soon.

Sahara speaks five languages, and writes books in three of them. English is not native to her, but it is one of her favorites--that's why, even having only been self-educated in the language, she reached a high level of fluency and was able to work as a narrator for many years.

In University she earned a Masters' in Economics, and successfully completed a number of courses on subjects that match her wide-ranging interests.
Ms. Sanders has extensive experience in managing different kinds of businesses, which she did while also working as an interpreter for roughly twenty years in total.

Her interests include: writing, psychology, gardening, the art of bouquet-making, landscape and interior design, pets, travel, cultures of the world, foreign languages, clothing design, photography, modeling, and other different hobbies that can be used as tools and methods to learn about, express and describe at least some of the wondrous beauty of life for those who were born on this little planet.

BLOG: http://sssanders.net
SITE: http://sssanders.com
Video
CREATE YOUR OWN FATE
Recommended Featured Books
"If you don't write your memoirs down then time will swallow them up, leaving no leftovers. (Indigo Diaries)"
"Emily mostly perceived her habit to write down notes as being one of the ways she could use to preserve moments of life. (Gods' Food, Indigo Diaries #1)"
"If you don't do anything to capture and draw your memories—no matter whether you choose words, pencil, photography, or filming—the only place where they have a chance to exist is in your head, which can't be called the most reliable place to store them; soon, they'd be lost forever… leaving no trace, like they never existed… like YOU never existed… same as those billions and billions of lives that had already disappeared from the world! (Gods' Food, Indigo Diaries #1)"
"The obscure, unexplainable aspect of the writing process is about how some rhymes appear in your head. It often feels more like tuning in to some kind of channel than composing words in your mind."
"Human communication and literature are all made of words; thus, it's hard to overestimate their unbelievable power."
"The closest to my heart is not just one book - it's the whole series of novels, Indigo Diaries. The first volume, "Gods' Food," is already available in English."
"When I was a schoolgirl my safe haven was a place at the uninhabited part of my parents' house. I used to climb up to the large windowsill that was facing a spreading plum-tree in the garden. Reading books, or penning my own stories, diaries and poems, it was especially fun to rest there during the warmer seasons of the year with an open window, when the tree was all covered with tender, odorous blossom in spring, and with rich purple fruitage in summer."
"Lately, I usually write at the desk in my living-room or bedroom. From time to time, our red and stripy cat named Foxy decides to be my companion, poking his curious caramel-colored nose to the screen, watching me typing, and making attempts to put his paws on the keyboard despite the fact that he knows he is not allowed to; he also loves to arrange "sunbathing" sessions for himself, purring joyfully while lying with his belly up under the lamp placed to the left of my computer."
"Twenty seven years ago, during my first romantic relationship with a boy, I started keeping a diary about my thoughts and experiences. That diary formed the basis of my novel "A Dream of Two Moons," the title of which comes from some paranormal occurrences from real life. The book will be published within a few months."
"The hardest situation is when the individuals desperate "to cut off your wings" are your closest family members whom you can't escape dealing with."
"Photography is a magical kind of art that allows people to preserve time and moments, and to describe the world the way they see it. (How to Look Great in Photos)"
"It's crucial to be able to gather enough inner strength to rise up from the ashes like the Phoenix Bird, when it's necessary."
"AllAuthor offers beautiful options for web design (which I truly enjoy using), and professional promotion. I definitely recommend it to my friends, and to any authors who are looking for a quality service to increase the exposure of their books."
"Having authored numerous and pretty versatile write-ups, I can't say that anything other than my soul, heart and life experience can be called a prominent part of every book I ever wrote."
"As they say, it's possible to kill and to revive someone using a proper speech. I agree with the statement because I know for sure it is true."
"Like most people on the planet I have experienced moments when a friend's, or just a stranger's, warm cheering up was like a gulp of oxygen essential for survival."
"I believe the best reviews are any of those wherein readers share their true opinion, no matter how many stars they rate my work. When I receive responses from appreciative people thanking for useful and amusing reading, it feels like my wings stretch up and blood carries the highest happiness circulating in my veins. I think many writers will understand what I mean by that."
"The worst reviews, by my mind, are those from individuals who enjoy entertaining themselves by writing something bad about books they actually never read, which is as clear as day from what they're saying. It's even more puzzling for an author to check some of these "honest" reviewers' pages and see that they created their profile with one goal in mind; to post you a bad review, as there's nothing else they wanted to rate."
"A trip to the Maldivian Isles was an adventurous, though stressful—while still totally amazing—vacation which I described in much detail in the travel guide "Maldives… The Paradise" readers can find at major book retailers."
"If some mystical occurrences happen to us, don't we "normally" and fearfully prefer to call them strange coincidences? Or try to persuade ourselves it was only an indication of our overactive imagination? Aren't we "normally" closing our eyes and ears, refusing to face the truth? (Indigo Diaries)"
"If something unusual is what you really see and really feel, and if that's what does happen to you in your real life, how is THAT called FICTION? One simple reason... that it's the only way the society would agree to call it "normal," based on the current level of development of their mentality. (Indigo Diaries)"
"DARE TO BE IRRESISTIBLE!"
"With so many book projects filling mind and heart, it feels similar to pregnancy. Your own books are like your children—you have to give birth to them, raise them, and do your best to make sure they live happily. You know, it feels like you just HAVE TO put into writing all of those thoughts, words and ideas appearing and growing in your head. Otherwise, life will make no sense without it. (Indigo Diaries)"
"Being born as an Indigo, the most difficult mission is to be strong enough to retain your true "self" while living in human stereotype society. Having to pretend, to act "the same as others," can only make you so deeply unhappy and hurt—feeling as though your "wings" have been cut off. (Indigo Diaries)"
"Modern formulaic society will try to make you "normal," rushing to call pseudoscientific anything you can do that they can't. (Indigo Diaries)"
"Considering things in the ecumenical measure, we are the microbes of the Universe. (Indigo Diaries)"
"It's not a big deal to fall madly in love with someone bright, extraordinary and charismatic; a big deal is to become the matching person, who is worthy to be loved back."
"One of the main secrets of success is the ability to foresee the situation a few steps forward."
"To be successful, any business requires a concentrated investment of time and energy; wherein each stage of the development has its tactics and priorities, in regards to which activities and when it makes sense to invest the efforts in."
"Often, exactly big complexes force an individual to achieve their big goals and massive success."
"The process of creation can be unpredictable and, in some way, similar to love: the brightest waves of inspiration may sometimes occur in wrong timing, wrong places, or even with wrong people. (Indigo Diaries)"
"Since I can remember, for some reason, I was always "not like others," and it was presented by everyone like there was something wrong with me; only becoming more grown up and mature, I realized that to be special and different from the crowd is my biggest value and happiness. (Indigo Diaries)"
"I left my novels for better times, when I could dedicate the energy and enjoy the inspiration I feel while planning them; like the most delicious cherries on a cake one left for later so they can be savored to the utmost. (Indigo Diaries)"
"Editing is a kind of creative activity where, in a perfect world, an author and an editor find that elusive oneness to understand each other intuitively."
"There are oceans of things to discover, to explore, to learn, to invent, to create in this world; especially with its modern possibilities offered. So, I don't understand when people complain they're bored and have nothing to do. (Indigo Diaries)"
"The shadowy edge between normal and paranormal is more than ILLUSORY... (Indigo Diaries)"
"She raised her eyes to the heavens and asked God for a miracle to happen to help her escape the troubles at home. Actually, Emily wasn't sure whom exactly she was talking to, whoever or whatever was there in the sky, and yet she, for some reason, couldn't remember for sure when and how she discovered this magic way to change the reality, but intuitively, she felt some unexplainable and very strong soul-to-soul connection to whatever warmhearted senior forces she was talking to. (Indigo Diaries)"
"The "idea generators" were normally Emma and Billy, who were full of inspiration for organizing something cool, starting from becoming the local naturalists, and to creating the variety of explicit plans on what they can do on saving the surrounding and the world, performing as much logic as their age allowed them. Such special characteristics often got them into different types of circumstances and troubles… still, same time turning their great time spent together into an unforgettable time. (Indigo Diaries)"
"It's truly interesting to observe how genetics works in families, and what a huge lottery it is to inherit some of our relatives' appearance features. (Indigo Diaries)"
"Emotionally and physically, I'm an extremely fragile creation of God; while the strong will and character are formed out of the necessity to protect the vulnerable core. (Indigo Diaries)"
"When people realized I'm strong, some of them appeared to be morons who automatically assumed it meant they might feel free to "beat" me as hard as they liked to, supposing it had to be fine with me. (Indigo Diaries)"
"Climbing your personal Everest, do your best to make sure it won't end up being your Calvary. (Indigo Diaries)"
"This trip began one lovely summer morning and nothing foretold of the troubles ahead. We didn't know then what a huge mistake we had made: we did not bother to put locks on our travel bags or at least to wrap them. We were naïve and did not do anything to protect our luggage. (MALDIVES... THE PARADISE)"
"The colors and views of this real paradise on Earth were unbelievable… you know, how can they be real?! Even harder to believe is how the vast majority of our planet's inhabitants are spending their lives without ever having the opportunity to see all of the absolute beauty of nature that can be discovered in this part of the world. (MALDIVES... THE PARADISE)"
"On our way to the hotel, the pleasure of looking at boundless turquoise water surfaces was diluted by seeing a scary and very large military boat, floating by with marine solders on board and carrying real arms and guns! Our jaws fell; we watched them as if we were hypnotized, while the marines watched us too, with serious expressions on their sunburned faces. (MALDIVES... THE PARADISE)"
"I loved literally everything about this man; even his ex-wife. (MAN LOGIC Novel)"
"In this travel guide, you will discover some very useful and interesting information: the result of our investigations while visiting one of the must-go to places in the world – the Republic of Maldives. (MALDIVES... THE PARADISE)"
"Being more aware will enable you to have only astonishing impressions, avoiding any of the disappointing experiences like some of those we went through. (MALDIVES... THE PARADISE)"
"In a couple of days after our arrival, it already became clear that our things were lost forever and would never be found. They put in the paperwork that Emirates Airlines had lost it, although we knew for sure it was all stolen by those girls in the airport of our first departure. (MALDIVES... THE PARADISE)"
"Unexpectedly, as a way of saying "sorry" for the stress and inconvenience caused due to our lost possessions, the Emirates Airlines had upgraded our return tickets to first class ones. Therefore, during our flight home we felt we were treated like royalty - as the service was of such a super high class. (MALDIVES... THE PARADISE)"
"This was really something to experience: free restaurant menu of our choice, smiling and caring assistants who looked like Hollywood stars, warm blankets to cover our feet during the journey, personal video screens, lovely presents… every little thing was taken into account for our personal convenience. Any celebrity would be pleased with this type of service! It was an unforgettable flight—another shock during this holiday, and this time a pleasant one. (MALDIVES... THE PARADISE)"
"All in all, even some kinds of unexpected and ridiculous disappointments couldn't diminish the astonishment of being in this place with its spectacular nature. (MALDIVES... THE PARADISE)"
"It's not possible to ever forget the life moments where, in the morning ocean breeze, you can walk along the beach and pick colorful shells and corals… pity you are not allowed to take them home, but you can always take a picture or video. (MALDIVES... THE PARADISE)"
"Despite the fact that not all experiences on this vacation were good, the trip to the Maldives has been added to the list of the most treasured memories we have ever had! (MALDIVES... THE PARADISE)"
"Atheism and traditional institutions of the Church are the polar sides of the same marasmus: either of them is badly lacking the truth. (Indigo Diaries)"
"If I don't like some rules, I create my own ones. (Indigo Diaries)"
"You could be a really great and fabulous person, but if your method of communication with a woman doesn't trigger her physical attraction by "pushing the right buttons," you will only ever be "just a friend" in her eyes."
"CREATE happy moments... MAKE miracles happen. LOVE is a miracle too."
"Sometimes, even those whom we consider as our close friends may betray us so easily, in a moment when we do not even expect it. Such is the truth of life, despite so many eloquent odes humanity dedicated to friendship. (Indigo Diaries)"
"The atmosphere of a date is everything. (Win the Heart of a Woman of Your Dreams)"
"One of the most difficult (but utterly important) things to manage in life is to "KILL THE DRAGON" inside of ourselves—a strong, aggressive, negative "dragon" of nasty emotions that lives inside of you, me. . . everybody! Probably this type of negativity can sometimes even be helpful in business, but it can also destroy any love or closeness, if you let it reach into your private life. You have to kill this "dragon" every day, because it comes back again and again, trying to destroy your happiness."
"Life IS a competition. ALWAYS. No matter whether any of us want it to be or not!"
"Many of us humans have a hard time with understanding one simple truth: the surest way to get love is to start giving love to others. Often, when we desperately need some companionship, understanding and warmth from those who are around us, we chose to blame, shout, criticize, accuse, insult and set ultimatums. But in reply, we only encounter with cold walls of estrangement which was diligently built by our own efforts, farcical walls and fences. (Indigo Diaries)"
"What do we actually consider to be "normal?" It's only about what our conventional mentality is or isn't able to understand, and agree to accept as "real." In fact, the shadowy edge between normal and paranormal is more than ILLUSORY… The exact same can be stated about the border between calling your novel non-fiction or fiction. (Indigo Diaries)"
"Generate happy moments. . . Make miracles happen! (Win the Heart of a Woman of Your Dreams)"
"Let's make our existence more joyous, fulfilled and full of positive adventures… Let's add more vivid colors to life in the world around us."
"Big happiness consists of small pleasant things."
"Proper nutrition is one of the most fundamental things on which anyone's healthy and happy life can be based. If you want to radically change your being for the better, to feel satisfied about who you are, or to look slim and attractive no matter what age is stated in your passport, start with changing unhealthy eating habits to healthy ones—and make them your favorites."
"Infuse your personal life with miracles and astonishment—not monotony."
"If one of the most interesting places to be is your inner world, you will never be bored when you are alone. (Indigo Diaries)"
"Among typical Indigos, you can find exceptionally open-minded individuals who develop the world to greater levels. Some are respected authorities. Others, sadly, are less successful; unable to withstand the huge responsibility and pressure that come with the precious gift of being special. (Indigo Diaries)"
"Be the "magician" of your own destiny. Take control of your own fate. Be aware."
"It is not really wise to make too many assumptions when you don't yet have all the facts to do so. You may believe your conclusions are logical, while they may turn out to be totally wrong."
"What if you could close your eyes and see different worlds and planets? What if you could see them with some kind of different vision, even with your eyes open? Would that make you a freak, a genius, a crazy, an Indigo? If something unusual is what you really see and really feel, and if that's what does happen to you in your real life, how is THAT called FICTION? One simple reason... that it's the only way the society would agree to call it "normal," based on the current level of development of their mentality…."
"Fill the life around you with joy. It will be returned to you tenfold."
"Let's add more vivid colors to life in the world around us: making it happier, merrier, easier, healthier, tastier and brighter. Let's make our existence more joyous, fulfilled and full of positive adventures. Our project is a constant source of inspiration to support these ideas."
"I've only ever met two people who sensed the true nature of my soul and, at least a little bit, were able to understand who I really am. They're both extraordinary individuals, and their emotional support at particular times of my life played major roles in my ability to survive those hard times. That's why they are undoubtedly special to me, and always will be. (Indigo Diaries)"
"If you harbor preferred principles and ways of behaving that have never brought you ANY happiness, or even much luck in your personal relationships over a number of years—this should not be taken as a sign that all women are bad or that none of them are serious, butA SIGN THAT YOUR OWN ATTITUDE AND DATING STRATEGIES ARE FLAWED AND NOT REALLY SUCCESSFUL—and can only bring you further disappointments with women!It seems like an elementary, easy thing to accept."
"Strangely, thousands of people seem, for some reason, to be unable, or stubbornly refuse, to see the truth and draw the logical conclusion. (Win the Heart of a Woman of Your Dreams)"
"We need to be brave enough and smart enough to look into the mirror at our true selves, without our comfortable masks of lies or hypocrisy. LET'S FACE IT:There are always reasons why we feel love for another person; we don't love someone for no reason at all. We love them for the qualities they possess, which we admire; for those amazing, bright emotions they evoke from within ourselves; for the love and care that we so acceptingly receive from them; and for what good feelings we experience being around them, etc."
"...A huge "army" of immature guys with blinders over their eyes, looking for UNCONDITIONAL LOVE, are going nowhere. Such men are all ending up to be eternal dating losers, because they are simply wasting huge amounts of effort, trying hard and hoping to find something that does not exist on the planet.To achieve the goal of personal happiness, we have to be honest with ourselves first of all."
"ALWAYS BE CAREFUL, AWARE AND WATCHFUL—BUT NEVER CHEAP AND SELFISH. (Win the Heart of a Woman of Your Dreams)"
"Why not fill your love story with truly wondrous and exciting activities, or surprise your date with something unusual and adventurous? (Win the Heart of a Woman of Your Dreams)"
"Best Recipes from Eastern Europe' is not only a guide about how to cook, but also about how to decorate dishes in beautiful and unique ways. Let's make our breakfasts or dinners look classy, lovely, unusual or funny; it will add bright feelings of joy and amazement to our being. Big happiness consists of small pleasant things-like these!"